Krasnoarmeysk Museum of Local Lore Branch of the State Institution of Culture Saratov Oblast Museum of Local Lore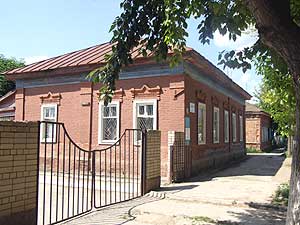 Contacts
Museum hours: Tuesday - Sunday from 10:00 to 17:00.
Closed Mondays
Contact phone: +7 (845-50) 2-25-22
CentralOffice@comk.ru
http://www.comk.ru/filials/krasnoarmeisk/
Address: 32 International St., Krasnoarmeysk 412820, Saratov Oblast, Russia
General description
Museum staff investigates the history of German villages in the district, the ethnography of Russian and German farmers who lived in the region since the end of the 18th century and founded the city of Balzer. The artifacts on predominant occupations and trades, along with household activities and everyday life of the district population made it possible to create a thematic section in the exposition, 'History of the Volga Germans', which also included the materials on the deportation of Germans, and about a fellow countryman, Hero of the Soviet Union, Volga German R. Klein.
Rare Lutheran liturgical books are of particular value. The collection also includes school textbooks from 1917 to 1950s, unique photographic materials about the collaboration of the Russian and German populations.
History and features
Established in 1987 as a public museum of revolutionary, military and labor glory.
The museum is located in a one-story 174 m2 brick building of the early 20th century. ​​Initially it was a residential building of wealthy German colonists. Subsequently, various institutions were located in it.
The public museum's exposition consisted of three large exhibitions: 'History of the Revolution and the Civil War', 'The Great Patriotic War' and 'Hall of Labor Glory'. There was an exhibition hall in one of the premises, where traveling exhibitions of Saratov Oblast Museum of Local Lore were displayed.
In January 1990, the Krasnoarmeysk Museum has become a branch of the Saratov Oblast Museum of Local Lore, and in 1997, it received the privilege to be called the Local Lore Museum. The funds of the Krasnoarmeysk branch include over 6.5 thousand storage units. They present ethnographic exhibits and collections of applied ornamental art. Documents and photographs of the late 19th – early 20th centuries, a collection of ceramics by masters from the village of Zolotoye of early 20th century – 1980s introduces the history, culture and economy of Krasnoarmeysk (formerly Balzer) and Krasnoarmeysky District.